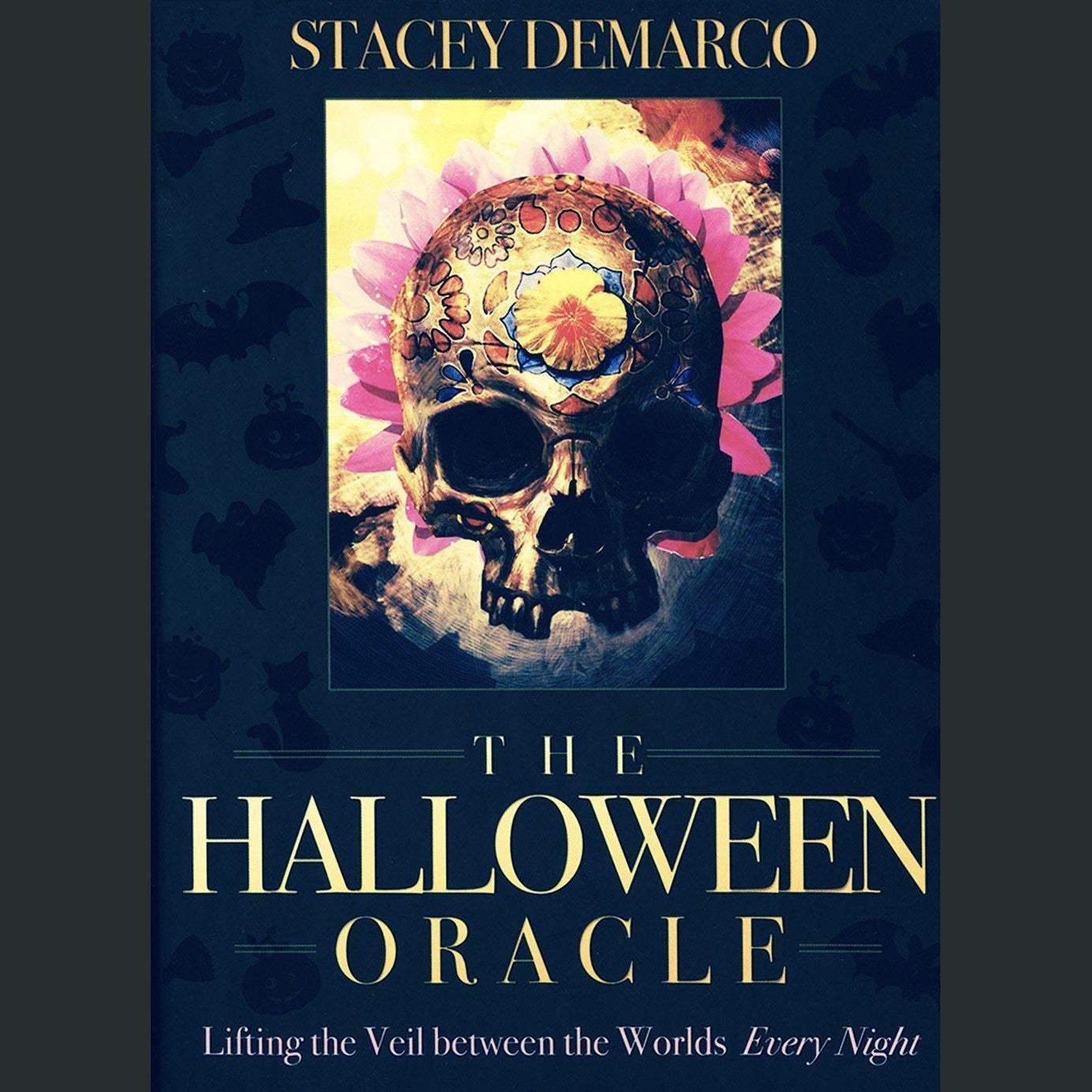 The Halloween Oracle by Stacey Demarco
Halloween Oracle offers a chance to connect with the other side and glimpse the future. Harness the eerie power of Halloween every night of year, encountering black cats, vampires, zombies, witches, werewolves, jack-o-lanterns, skeletons, mummies and motifs from the Day of the Dead.
Each of the 36 richly illustrated cards has an accompanying meaning in the guidebook featuring rhyming couplets like those used in ancient storytelling as well as a message of divination for you based on an aspect of Halloween tradition.
To go along with this set check out the Divining Coin.
Meaning of the cards:
Ancestors- (Love and legacy) Know that you are ready and able to action your birthright of power. You have the support of those who came before you. 
Apple- (Risk vs. reward) Its time to look at how risk plays out in your life. Are you taking too much or maybe too little?
Barmbrack- (Sweetness and synergy) This is a sweet loaf that is baked during Samhain. Inside the dough, it has hidden objects that represents the fate of the person who found it in their slice. This card symbolizes a curiosity to know whats ahead-but also the reminder that we have the tools to shape our own future. 
Black Cat - (Fortune meets opportunity) Good luck and fortune will be meeting you promptly. Be ready and take full advantage of special opportunities.
Cauldron - (Healing) The importance of combining a variety of elements to get the best results. 
 Dawn- (Light after darkness)There is always a fresh start and a new beginning to be had. Hope springs eternal.
 Death - (The eternal cycle begins here) Not an end, but a beginning of a new chapter. Clearing out the old to make room for the new. 
Eternal Love - Remember that love is the most powerful force in the universe. It is even more powerful than death.  
 Forgiveness - (Reducing burden) Think about who it is that you could be forgiving - that includes yourself. 
Ghost - Let go of regrets, free yourself of old burdens to clear the way for new possibilities. 
Graveyard - You can overcome any obstacles. Fear can be put aside, trust that you are moving in the right direction. 
Hearth - (Heart of the Home) Make family a priority. Protection is being given to family members away from home.
 Invisibility - (Authenticity) This card is a reminder to be your authentic self, shine your light and express your true self. 
 Jack-o-lantern - (Protection)  Know you are protected and the Universe supports you. 
Joy - (Rejoicing in the present) This card heralds arrival of more happiness and profound joy into your life. 
Lady De Los Muertos - (Acceptance and Equality) Let go of anything that no longer serves you - including material things- simplify and let go. 
 The Lamp - (Remembrance) It is a tradition to light a candle or lamp on Halloween night and leave it at the window as a loving guide home for those who have passed. Celebrate the lives of loved one that have crossed over. 
Midnight - (the magick hour) Recognize we all have darkness within us - just as we have light. The key is balance and overcoming our short comings and fears. 
Mummy - (Change) This card indicates that change for the better is coming.  
Nightsong - (Hidden Talents) Unwrap the present of yourself. Some of the gifts within you remain unopened. Step into your true potential. 
Owl - (Wisdom) This card indicates the need for wise council or more information before you make a decision. Think strategically. 
 Scrying - (Intuition) You may wish to develop your intuition further, true wisdom takes a balance of logic and intuition.
Skeleton - (Strength) There is incredible strength in showing vulnerability. It can be a catalyst for personal growth. 
Skull of Darkness - Uncover your blind spots or consult with a trusted friend to assist you with seeing things you may have overlooked. 
Skull of Flowers - There is a sureness to starting fresh. Sometimes the universe gives us a blank slate so we can create what we really want.  
Skull of Light - It may be time to open yourself fully to the clarity of illumination. 
Skull of Stars - (Infinite Possibilities) Think big. If you can dream it, it is possible. 
Spider - Spiders webs are symbols of connection. Balance what you do for yourself and what you do for others.  
Trick or Treat - (Mischief and play) It may be time to examine the role of play and mischief in your life. Take time to have some fun. 
The Underworld - You are being asked to consider what you have to do to transform your life into something more authenic to you. Space is being made into which you can create the new.
Vampire - (Emotional Intelligence) The time may have come for stronger boundaries. Be aware of what drains your energy. Forge healthy relationships. 
The Veil - (The Future) Listen to what messages may come to you during the thinning of the veil. Think big and set intentions. 
Werewolf - This card represents the balance of wild freedom and controlled restraint.  The werewolf asks us to consider this balance and to delve into our own ideas of wildness and independence. 
Winter - (The sacred pause) It's time to let what no longer serves you go. Release anything that is burdensome. 
The Witch - (The earthly weaver of the worlds) This card reminds you that you can weave your own change throughout your life and that you have the true power.