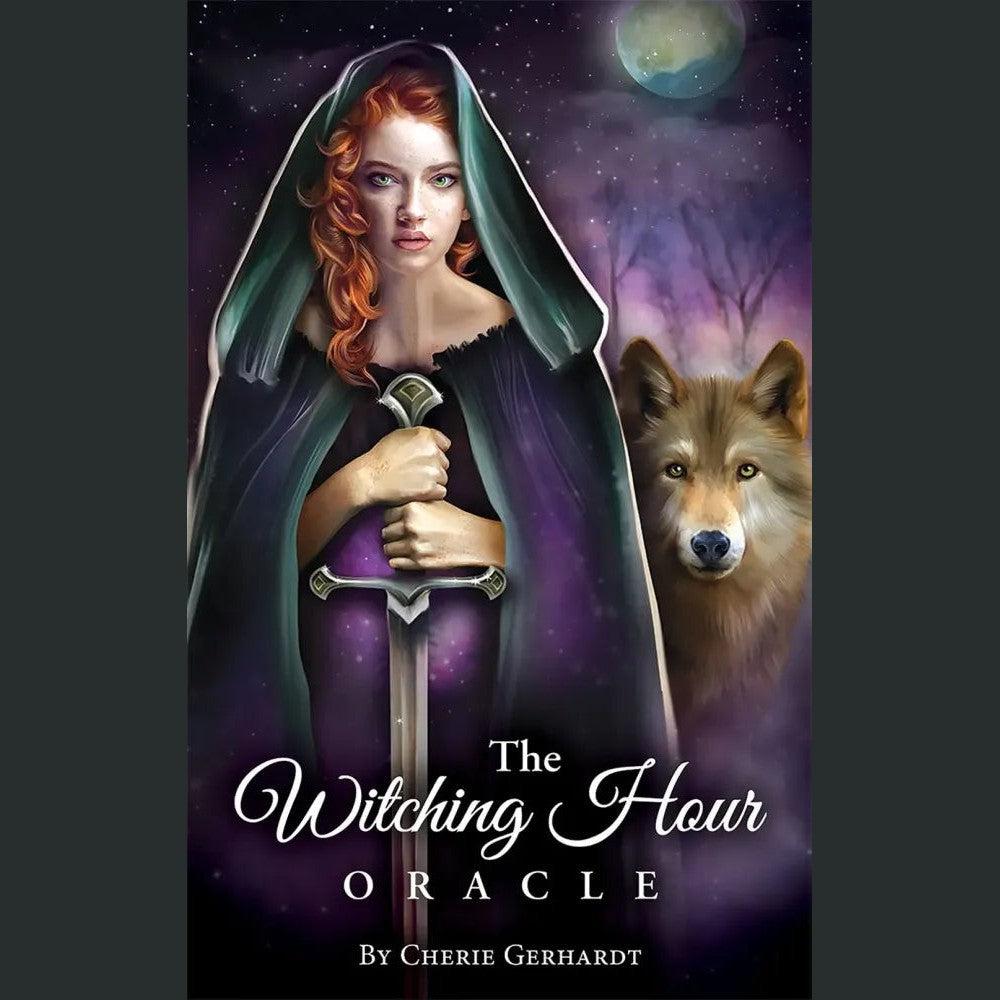 The Witching Hour is the time when the infinite energy of the universe is strongest and most accessible. The Witching Hour Oracle helps you tap into this magickal power that exists within all of us when we use our intentions to positively impact the world. Channel the wisdom of the Triple Goddess and the power of the lunar cycles to manifest potent outcomes. Includes 39 cards and 64-page guidebook. 
Box measures 3.375" x 5.375"; 39 cards measure 3" x 5".
Meaning of the cards:
The Wolf Moon
1. Beginning - A good time to start any spiritual projects.
2. Protection - Use your intuition to guide you in which direction of how yu could protect yourself and others. 
3. Align - Think about whqt you want out of life. Align your different personas into one.
The Ice Moon
4. Purification - Filter out negative thoughts, eat healthier, and remove any toxic relationships.
5. Growth - Think where in your life you can grow. 
6. Self-Healing - Take time to heal yourself.
The Crow Moon
7. Explore - Explore your inner self to find out what you may be missing.
8. Prosperity - Focus on what you want to bring into your life.
9. Breaking Illusions - Break illusions that you have about yourself and others.
The Growing Moon
10. Self-Reliance - Consider being more self sufficient.
11. Creating - Time to let your creativity soar.
12. Confidence - Stand firmly behind your voice.
The Hare Moon
13. Intuition - Listen to your inner voice.
14. Propagating Energy - Gather in your personal energy.
15. Guidance - Ask your spiritual protectors for guidance.
The Mead Moon
16. Restless Energy - Use your excess energy to create something.
17. Decisions - Move forward and make that decision.
18. Self Reward - Time to celebrate; you deserve it!
The Buck Moon
19. Relaxed Energy - Free yourself from stress and unwind.
20. Prepare - It is time for you to develop a plan.
21. Dreamwork - Pay attention to your dreams.
The Barley Moon
22. Vitality - You are strong and in full power.
23. Appreciate - Appreciate those around you.
24. Friendship - Focus on your closest friends.
The Harvest Moon
25. Balance - Balance all aspects of your life.
26. Rest after Labor - Rest and celebrate your accomplishments.
27. Organize the Mind - Be more mindful of things that cause you unease.
The Blood Moon
28. Karma - What goes around comes around.
29. Let Go - Let go of the past and move forward.
30. Justice - Justice is on the horizon.  
The Blue Moon
31. Honoring the Past - Appreciate your past so you may be enlightened.
32. Commune with the Dead - A person beyond the veil may have a message for you.
33. Prophecy - Use past experiences to predict the outcome of the future.
The Snow Moon
34. Transform - This is a time for dramatic change within yourself.
35. Take Root - Now is the time to take that idea and make it happen.
36. Communication - It may be a time to discuss your feelings, ideas, and concerns with others.
The Cold Moon
37. Reach Out - Make an effort to do something for other people.
38. Endure - You are strong and you can move past this.
39. Personal Alchemy - Identify where you want to make changes in your life.