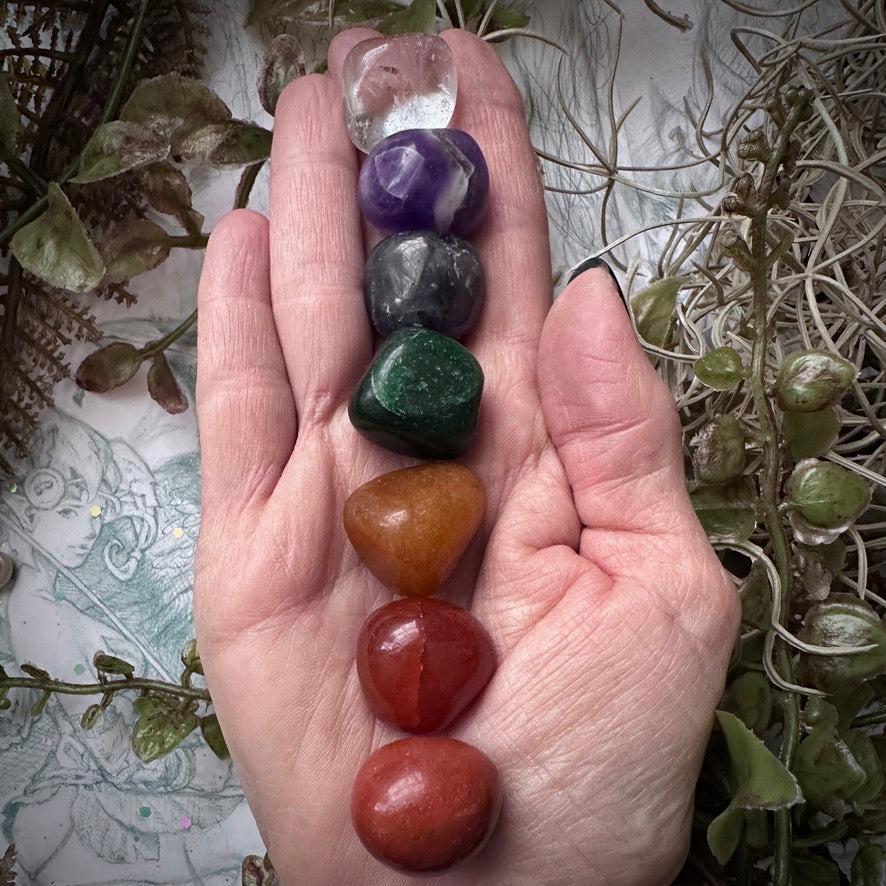 Chakra Stones are perfect to use in balancing your energy and focusing on specific areas of the mind, body and spirit.

Each set includes a pouch with 7 stones - for activation and clearing of the 7 main energy centers of the body. This Chakra Set is composed of the following crystals:
Tumbled Red Jasper
Tumbled Carnelian
Tumbled Citrine
Tumbled Green jade
Tumbled Blue Sodalite
Tumbled Amethyst
Tumbled Clear Quartz
Gift bag
Many of the designated stones have energies which touch multiple layers of our energetic system, so the crystals may be used intuitively with any energy center.

Crystals and minerals are formed naturally, so the shape and size is always approximate. Many stones have naturally occurring inclusions and cracks that make them unique, and do not affect their individual quality.

Included in this set are 7 stones.

All stones have been properly cleansed, charged, and come in a gift bag. I charge all gems on my personal altar space and bathe them in full moonlight before listing.

*Please allow for slight variations due to the organic nature of the items.

Please enjoy!
Kristi
Customer Reviews
Fantastic product
Love the gemstones size and intentions are spot on. I would've preferred the guide shown in the advert as opposed to the sheet I got. I would refer a friend.